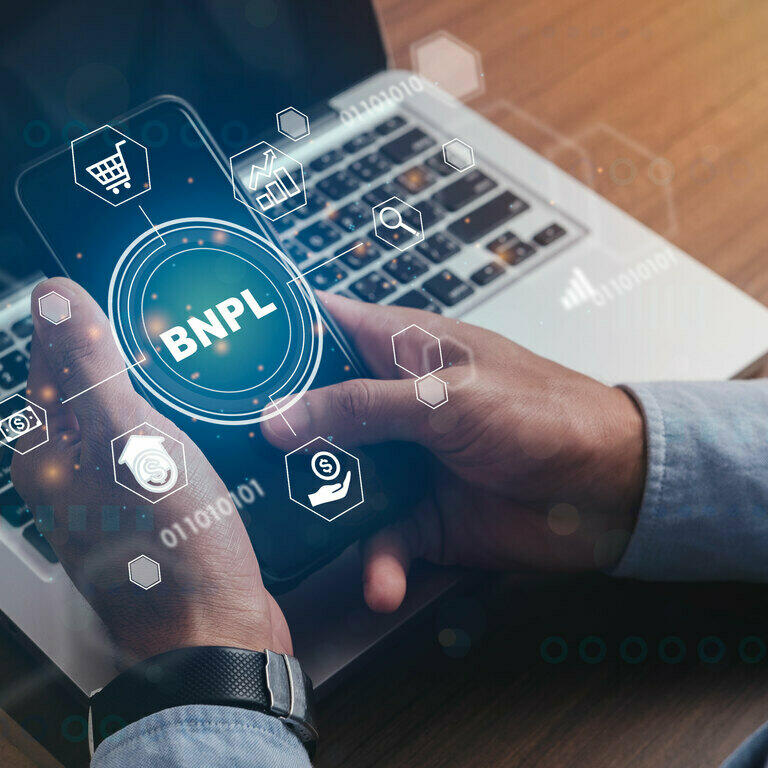 Background: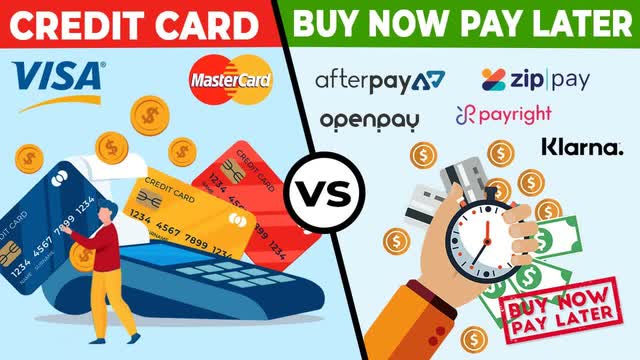 We've all seen and heard about the rise of Buy-Now-Pay-Later in 2020/21. Companies like Affirm (AFRM), Klarna (KLAR) and, Afterpay (OTCPK:AFTPF) (OTCPK:AFTPY) have long been heralds of this new payment method. Mastercard launched its BNPL program in September 2021. A new article by Seeking Alpha announced Mastercard (MA) introduced Mastercard Installments, a Buy Now Pay Later program available for Mastercard's merchants both in-store and online in the U.S., Australia, and the U.K. According to Mastercard's data, BNPL helps have been shown to increase average sales by 45 percent and reduce cart abandonment by 35 percent post implementation.
This flexible form of payment continues to dominate our payment methods. Mastercard and Visa have announced plans of getting into the industry. There are many other companies that have announced plans to move into the industry. Beyond Mastercard, we know that Visa (V) also launched a similar initiative through offering Visa Installments Expands to Australia, offering a new way to Buy Now Pay Later in partnership with ANZ and Quest Payment Systems.
Affirm has always been a direct BNPL player for over a decade now founded by Max Levchin. In recent years, Affirm has been expanding its product offerings to include broader fintech services for consumers like their new Debit+. Affirm has created strong partnerships with the likes of Amazon (AMZN), Shopify (SHOP), and Walmart (WMT) which continues to strengthen Affirm's grip on the BNPL ecosystem. Amidst this fierce competition, the biggest question for investors is to identify who is positioned to win BNPL over the 3-5 years? Could the network rails like Mastercard with their large merchant base and the large network effect-driven moat? Or are the pure-play fintech BNPL players just too fast for the networks to catch? I'll try to answer some of those questions.
Overview of the Differences Between Credit Card Networks and Pure-play BNPL Players:
This is a high-level overview of the Global Fintech Buy-Now-Pay-Later ecosystem. There are quite a variety of BNPL providers in different geographies, but more importantly, there are different BNPL distribution models. They can be categorized into:
1) Direct BNPL merchant suppliers like AFRM, 2) Multi-lender network rails like Mastercard 3) Credit Card issuers like the banks providing installments 4) White-Label providers: They allow merchants to offer their own BNPL directly without having to partner with any of the following fintech BNPL suppliers above.
Mastercard is a financial services company that serves as the middleman between the merchant, acquiring and issuing bank when a payment is made by the consumer. Most of their revenue is driven by transaction volume growth. Affirm provides a full-fledged BNPL service and experience for merchants. This service goes beyond just financing but providing more support services to these SMBs or large providers.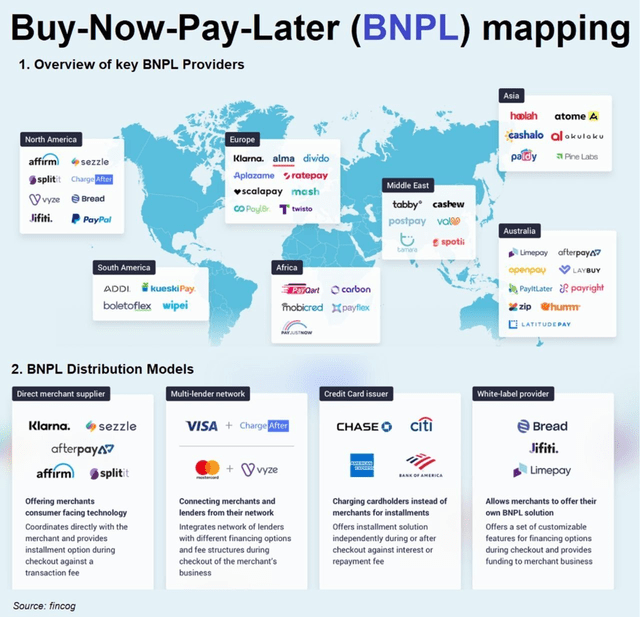 Mastercard's BNPL Offering:
Since Mastercard is new to the BNPL ecosystem, I will spend more time explaining their product. The press announcement by Mastercard said:
"The BNPL program enables banks, lenders, fintech, and wallets to offer a variety of flexible installment options to consumers – including a zero percent interest, pay-in-four model – without integration into the merchant infrastructure, allowing them to offer secure and competitive BNPL experiences at scale. It enables consumers to access this increasingly popular form of payment across its vast global acceptance network."
In 2019, Mastercard bought Vyze, a company that helps connect merchants with lenders to improve the POS financing at checkout experience in-store and online. This technology matches consumers with the best lending product for their needs. Mastercard has now integrated this technology into their existing base to provide BNPL services for their merchant base who choose to use this service.
Importantly, Mastercard's BNPL offering is more of an installment payment breakdown for the consumer – the goal is to deliver installment capabilities at scale. Meanwhile, Affirm and Afterpay offer more zero-percent loans but offer much more value-added services to the merchants and consumers which goes beyond financing – I will delve more into these services in the Affirm section.
From the earlier Mastercard press announcement, we can learn more:
"Mastercard Installments uses the power of the company's trusted network to make BNPL available to millions of consumers and merchants worldwide. It enables banks, lenders, Fintechs, and wallets to offer a variety of flexible installment options to consumers – including a zero percent interest, pay-in-four model – without onerous integration into the merchant infrastructure, allowing them to quickly offer secure and competitive BNPL experiences at scale.

Mastercard Installments enables consumers to digitally access BNPL offers, either pre-approved through their lender's mobile banking app or through instant approval during checkout. Pre-approved installments can be used directly on a merchant's website, and can be stored in digital wallets including Click-to-Pay, to then be used online or in-store wherever Mastercard is accepted. Instant approvals during checkout will be available through Click-to-Pay shortly after launch. Consumers will have full transparency on lender practices up-front during the approval process, and unlike most current BNPL offerings, consumers will continue to benefit from zero liability fraud protection, the ability to challenge unrecognized charges, and the peace of mind that comes with Mastercard's acceptance footprint."
An additional component of their service compared to Affirm is that MA will be offering more BNPL services for lenders: Additional words from the earlier press:
"For Lenders: Through the Mastercard Installments Program, lenders can offer a flexible, seamless BNPL experience to both existing and new customers, expanding their lending opportunities in one of the fastest-growing consumer segments. Mastercard Installments provides an expedited time to market and global expansion opportunities with a responsible lending approach." – Mastercard Press Release.
Mastercard's Competitive Edge:
The image below highlights the key components of the offering: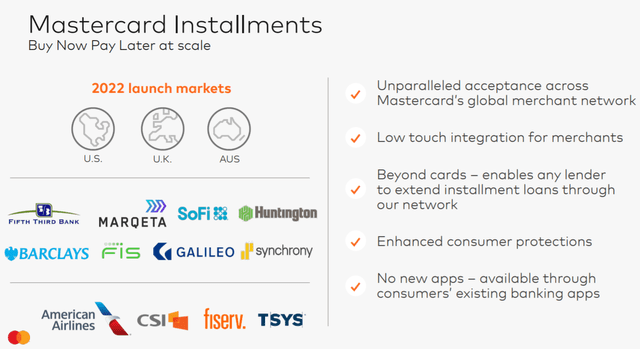 After reviewing everything from Mastercard's BNPL offering. One of the biggest value propositions they have over direct BNPL providers like Affirm is that:
1) Mastercard will offer 'acquiring banks' the ability to offer installments capabilities to their entire merchant base. This is another unique part.
2) Mastercard is chiming their fraud detection and data privacy capabilities compared to the likes of Affirm that may not have strict data protection policies.
3) Mastercard is willing to offer a minimally invasive integration with merchants. If a company/SMB already accepts Mastercard, there wouldn't be much of an installation process involved. Importantly, MA seems to also believe their competitive advantage will be this simple integration for both the consumer and merchants. Consumers will only use their existing bank or credit apps for managing their installments, meanwhile, merchants can easily include the BNPL services with minimal infrastructure integrations. This is good in that it is simple and easy, however, Mastercard will miss out on data points they need to better serve merchants.
4) Convenience and Global Brand Presence: Mastercard is more widespread and popular amongst global brands. Convenience is key. Merchants want a BNPL that is used by other consumers that shop at different big stores. A big merchant like Amazon doesn't want to have multiple BNPL at checkout, so they would rather have only one main provider. Mastercard is popular and this gives them an edge.
Limitations of Mastercard's Offering:
1) Mastercard doesn't have a direct consumer app and they have to rely on third-party consumer bank applications. This is a key long-term miss because Mastercard will not be able to build that direct financial relationship with the consumer by offering them more services (beyond just credit cards) or improve the consumer experience in such a way that the consumer wants to engage with their BNPL service especially compared to the likes of Affirm or Klarna. Affirm has high amounts of datasets for both parties (consumer and merchants) due to the app that allows them to provide lots of value-add services for consumers.
2) The lack of a Vertically integrated BNPL Model: Mastercard is working with Barclays US, Fifth Third, FIS, Galileo, Huntington, Marqeta, SoFi, and Synchrony in the U.S., and with Qantas Loyalty and Latitude in Australia to offer all the different elements required for a successful BNPL. However, different players like Affirm have built a fully integrated business model to provide BNPL service which will help them in the long term.
3) Mastercard has no internal core underwriting and risk management model for underwriting the credit approval process for consumers. They will be relying on the third-parties such as banks and financial institutions outlined above in the press to help them with these processes.
4) No 100% full SKU data: I should emphasize the benefit of the SKU data. The SKU level unlocks numerous use-cases and opportunities for BNPL providers. For example, retailers like Walmart could work with a merchant like Apple (AAPL) to minimize or bypass a network rail to subsidize iPhones or Apple devices. MA/V or even PayPal's (PYPL) infrastructure cannot easily access this SKU level as efficiently as direct BNPL suppliers do. Mastercard in their earnings calls mentioned that their "BNPL program allows merchants and lenders so they can share information like SKU level data under the right data privacy and consumer consent conditions." While Mastercard will receive this data, due to their lack of full integration and their old technology, there are limitations to how much Mastercard sees access. MA does not control the merchant POS and has the level of direct relationships with merchants like Affirm and the direct players do.
Overall, there are strengths and weaknesses to the Mastercard offering relative to competitors.
Affirm's Competitive Edge:
In BNPL, Affirm's business model is predicated on a two-sided network between merchants and consumers. Let's begin with the merchant benefits from Affirm's BNPL.
Value Added to Merchants:
Merchants care about: Sales, average cart order value, repeat customers, upselling at checkout. Affirm offers the following for merchant:
1) Affirm is a key enabler of increasing sales by making product payments more affordable and convenient based on the time value. The key difference is that Affirm has value-added services like Affirm Adaptive Checkout for merchants that add more features to increase upselling. This leads consumers to be able to afford Higher Average Order Value items, reduce abandon rates at the cart and increase their purchasing power based on their ability to repay.
2) Through the Affirm app and the services offered through them like brand-sponsored solutions, they provide lead generation, marketing, and driving traffic for the merchant by providing advanced consumer behavior analysis. This helps to create products that drive the number of repeat and habitual consumers to a merchant. They provide merchants with advanced customer data & insights for their store, products, and consumers due to the data they receive from a strong payment infrastructure integration.
3) Consumer/merchants' post-purchase: Affirm pays the merchants the cash for the item purchased immediately. They save merchants time and effort by taking care of any consumer inquires, experience, and the entire pre/post-purchase customer experience (with the acquisition of Returnly). For Mastercard, we haven't heard about the other services they plan to offer around the entire pre and post-purchase experience.
4) Speed of product development for merchants based on SKU Data: Another high-potential benefit of this SKU data is that Affirm can work exclusively with a merchant to curate and build financial packages that exclude the banks or the credit card companies. For example, Walmart can create their own Walmart Store Card for discounts using Affirm rather than Mastercard. Walmart incentivizes the consumer to use those cards to make store/online purchases on which everything is built on an Affirm network (This is currently rolling out across 3900 Walmart stores. I already got an offer here in Canada). Another method that benefits the BNPL method is that SKU data can allow a retailer like Walmart or Target (TGT) to create "item specific" coupons on products they need to sell quickly. This is not easily implementable with the legacy companies like Mastercard since their infrastructure cannot allow them to easily match an SKU coupon on a product and enable BNPL on that item as easily.
Example: Affirm plans to launch Merchant Product Services. At Affirm's Investor Day presentation in November 2021, they mentioned that they plan to launch a merchant capital program that would help merchants with cash flow or serve as BNPL for merchants. Additionally, they announced features like brand-sponsored promotions that allow for small merchants to advertise on platforms such as Walmart. They released Adaptive Checkouts which is a differentiated personalization of payment terms that has already been adopted by 44% of merchants. Finally, Affirm operates a marketplace that has served as a great place for developing affiliate programs and has served as a place for lead generation for merchants.
Value Added to Consumers:
Consumers can use the Affirm app as a starting point to shop and discover discounted products and better prices from a wide variety of merchants.
Affirm has the opportunity to create superior customer experiences: With the data in Affirm's data, they can create personalized products and payments for consumers.
Convenience is key. Most consumers would prefer to have only two or a maximum of three providers for their BNPL services when they go shopping. No consumer would want their credit underwritten multiple times at different merchants in the way that Mastercard has set up their program. Additionally, as announced at Affirm's Investor Day, gradually, in early 2022, consumers get rewards, points, and cashback on their transactions. Mastercard doesn't offer the following.
Limitations to Affirm's Offerings
1) Lack of a global brand presence and network rails: Mastercard will always win in this set-up when we talk about who has the largest global access. For Mastercard, BNPL providers and financial institutions have access to a merchant network that encompasses anywhere globally where Mastercard is accepted since MA has already created this global network infrastructure.
2) Extra process for Affirm merchant implementation/integration compared to Mastercard. Meanwhile, on the consumer side, some customers may be reluctant to open an app or create a new relationship for a BNPL activation.
What Will be the Key to a Long-term BNPL Winner?
There are many criteria to use to evaluate the long-term success of the BNPL providers. In this article, we will focus on winning the consumer.
For the thesis on BNPL to be successful, BNPL providers will need to continue to funnel incremental sales to merchants. This is the rewarding mechanism that makes merchants willing to pay a 5% MDR as they believe they can make up for the differences by increasing the volume of sales.
Currently, the leading players are offering incremental value-added services to consumers and bringing incremental buyers to merchants. As an investor into the sector, one question to ask is if in a world where BNPL is ubiquitous, i.e., all the major financial institutions and young fintechs offer BNPL as a standard option at check out – a question to wonder is if merchants will keep paying those high fees of 5% MDR fees? Where is the incremental value to the merchants? In the past, merchants offered credit cards and accepted high fees because accepting credit cards drove incremental spending. But now, accepting cards is just a cost of doing business, not a demand driver because the relative demand/perceived value has reduced since credit cards are now ubiquitous.
For BNPL providers to be differentiated and unique, it will likely be as a result of consumers finding value in beginning their shopping journey at the BNPL providers app/website. The long-term impact is that Affirm has better unit economics from merchants.
A historical example that can be applied to this model is the online travel industry. Booking.com or TripAdvisor (TRIP) all played key intermediary roles and had powerful network effects. They have been successful because they sent incremental demand to hotels that were happy to pay the commission for rooms that would otherwise go empty. Over time, Booking.com became the top of the funnel by attracting travelers to begin their journey with Booking.
Direct BNPL providers like Affirm's key competitive advantage is that they have aggregated merchants who offer BNPL. As a result, consumers looking for payment flexibility/discounts/coupons can use Affirm to start their shopping or eCommerce journey. The "lead gen" through the app is the start of value creation. If BNPL players like Affirm can successfully maintain a role as the "portal" to merchants, it will be ultimately successful. Google managed to achieve this by making Google Search, the default location where consumers start their journey before going to a company's website.
Currently, a big reason why I believe Affirm has the capability of becoming one of the top-tier leaders of BNPL longer-term is that Affirm currently has a big emphasis on making their app the default location for consumers. They are working on developing/already launched offering more advanced value-added features for merchants to justify MDR fees and for consumers, better pricing/discounts/rewards to incentive returning to the Affirm app. In the end, it will come down to data, trust, technology solutions, and brand to win the market longer term.
Financials & Valuation:
There is no doubt that Mastercard has better financials and unit economics than Affirm. However, if your criteria are based on revenue growth and the company with the likelihood of growing faster in 3-5 years, Affirm wins.
MA's Financials
Mastercard currently sells at forward P/E of 38x. An EV/EBITDA of 29 based on EPS of $8.27 in 2022 and revenue growth of 20% YoY. The context for the valuation is that Visa has one of the best EBITDA margins within the industry of 45%. Below is a chart with sales growth and EBITDA estimate for 2022-2023.

AFRM's Financials
Affirm has a revenue growth forecast of close to 47% and it is expected they can keep growing close to 50% for the next 3 years. In my forecast, if you include the Amazon and Shopify deal, I believe Affirm can grow close to 60% which could mean Affirm could get close to $4 billion by YE 2024. If they can achieve a low 20% EBITDA by EOY of 2024, they could hit about $400M in EBITDA margins.

Conclusion:
In summary, BNPL will continue to be a fiercely competitive market as this payment method becomes ubiquitous.
Mastercard is a great business that will always play a critical role in finance. They have the global reach and scale of merchants. They also have a strong financial network infrastructure connector for merging players such as the merchants, issuing and acquiring banks that will be integral to BNPL. The limitation is that their BNPL services are not vertically integrated. Secondly, due to their deeply entrenched role in this ecosystem, they don't have an in-depth understanding/relationship of the consumer or merchants at the level that players such as Affirm have taken it too. Finally, we haven't seen Mastercard fully implement their BNPL solutions at scale. Right now, it has been announced and is being rolled out in small steps. We will need time to gauge its success.
In my opinion, Affirm will win the BNPL race longer-term because of the tighter relationships established and value-added services provided directly to the consumer and merchants on their network. This will be further enabled because Affirm is a pure-play direct provider, and the Amazon/Shopify partnership should scale its global reach. Affirm will continue using three major measures to improve its competitive position. First, by aggregating suppliers and customers through partnerships with the largest eCommerce players. Secondly, collecting valuable data and efficiently amassing valuable data through their SKU/consumer app; and finally, utilizing steps 1 and 2 to enable Affirm to create a larger eCommerce and Fintech product ecosystem. Over time, it will be important for them to drive down customer acquisition costs and increase engagement on their app to make this moat even stronger.
Happy to hear dissenting opinions and thoughts on the topic.